GES Reopens SHS Recruitment Portal Now – Check How to Apply Here
GES Reopens SHS Recruitment Portal Now After the initial opening of the Ghana Education Service (GES) recruitment portal for College of Education Graduates, from Monday 2nd September 2019 to 15th September 2019.
The question of whether there would be another recruitment of teachers into Senior High Schools has been a debate with no official statement from the Ghana Education Service.
Although many university graduates who studied education applied in their numbers, it was later stated that the initial recruitment was for college of education graduates and that the recruitment for the double-track Senior High School would be done in October 2019 awaiting the arrival of the other track in November 2019.
As stated earlier this issues concerning the SHS recruitment have always been rumors. Note that even the initial recruitment was not officially announced. It was done silently.
Well, the Ghana Education Service (GES) recruitment portal has been opened again from Monday 7th October 2019. websaet.com has been waiting to see if it would be closed so as not to report on it but it is still opened. Could this be the much-awaited GES Senior High School recruitment
That cannot be confirmed. What can be confirmed is that the portal is open again. One would expect some changes to be made to the interface since the portal for the Senior High School recruitment used to be different, but it remains the same as the interface used for the initial recruitment.
Those willing to apply should do so as there is usually no official statements concerning such recruitment.
GES Recruitment 2019/2020 Application Procedures
Here are detailed application procedures should you choose to apply.
To start the application go to gespromotions.gov.gh/apply_recruitment or just access the form directly here.
Then click on the "Click to Start Filling Form" button.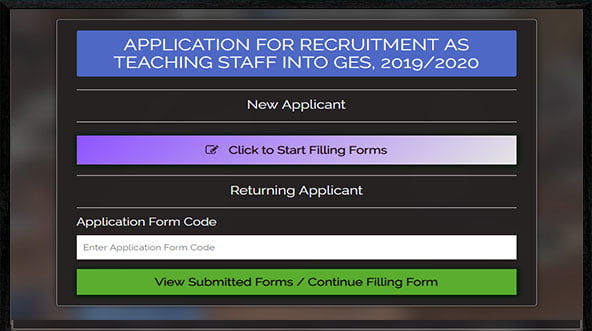 The first section of the application form is the personal details section. In this section enter your personal details such as your first name, last name, date of birth, place of birth, the region of birth, nationality, marital status, email, and phone number.
After entering your personal details, the "certification" section shows up. On this page, you are to enter your "NTC Licensure number" and select your "NTC Result" with the option of either "Pass" or "Fail". You are also to enter your "College Of Education Index No", this refers to your index number from the institution you attended, then select your "COE Result" with the option of either "Pass" or "Fail". Afterward, enter your "NSS Number", "District of NSS Posting" and select your "Region of NSS Posting" and "Year of Completing NSS"
  After entering your certification details, the passport picture and certificates upload section shows up. Click on "choose file" at the "File Upload-Passport Picture" section to choose your passport picture and click on the "Upload-Passport Picture" button to upload your passport.
Do the same to upload your certificates in the "File Upload Certified Copies Of Certificates" section. Certificates to be uploaded are your college/university diploma or degree certificates, your national service certificate, your licensure exams certificate and your birth certificate.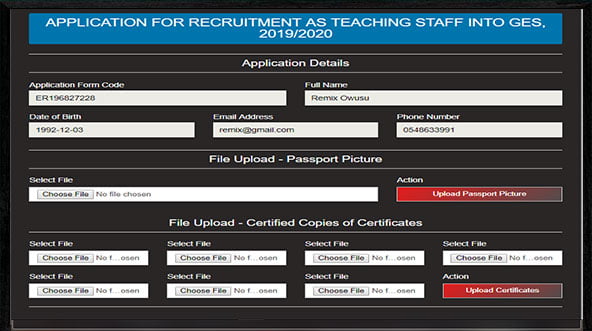 After uploading your certificates and clicking on "Upload Certificates", the "Submit Application Form" button shows up. Make sure the areas you uploaded your documents are green and shows "view document". If you do not see this in the respective areas. It means your file did not upload. Click on "Submit Application Form" to submit the application form.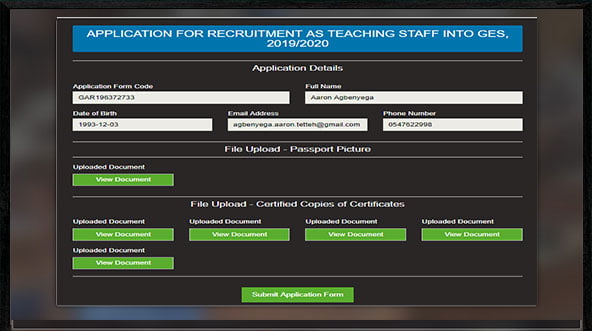 After submitting the application form, the print page shows up. Click on the "Click to Print Submitted Form " to print your application form. Then click on the  "Click to Close" button to exit the application process.